Introduction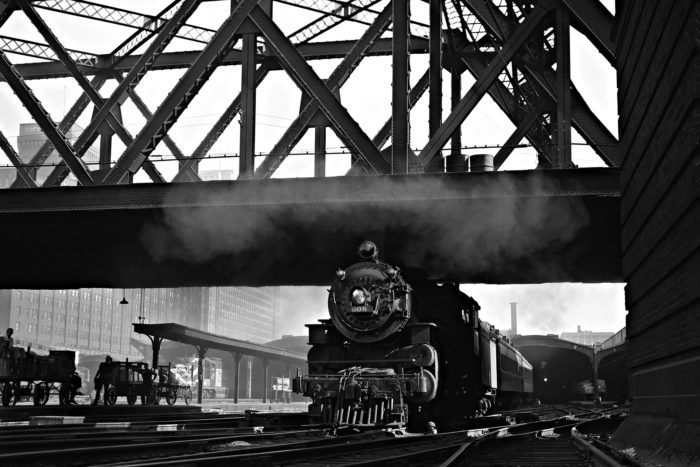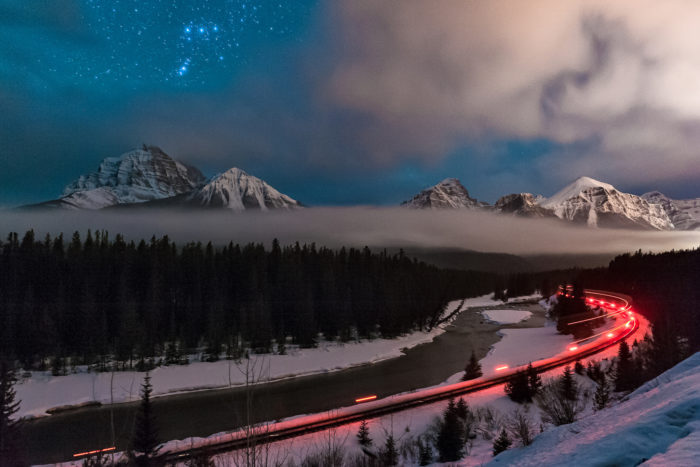 For the 2017 John E. Gruber Creative Photography Awards Program, the judges created two categories: one to feature outstanding work made prior to the creation of Amtrak in 1971, and another to showcase recent innovations in night photography made possible by modern digital cameras and creative use of them. More than 100 photographers submitted work for consideration in the two categories, challenging the judges to select the best from a remarkable range of photography. Entrants spanned a wide range of ages, included two father-son pairs, and came from nearly thirty states and eleven different countries.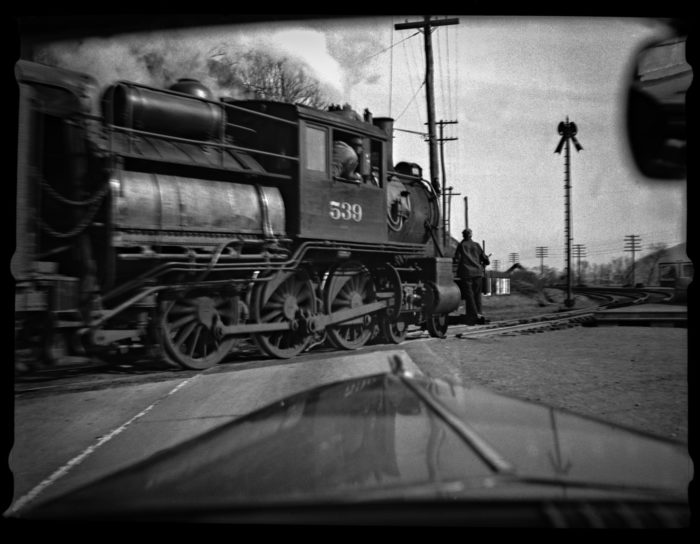 Vision from the Past winners:
First Place: Philip A. Weibler, West Chicago, Illinois
Second Place: Herbert Livesey, New York City
Third Place: John Helbok, New York City
By the Light of Night winners:
First Place: Nicholas D'Amato, Denver, Colorado
Second Place: Brandon Townley, Sunbury, Ohio
Third Place: Darryl Bond, Waimate, New Zealand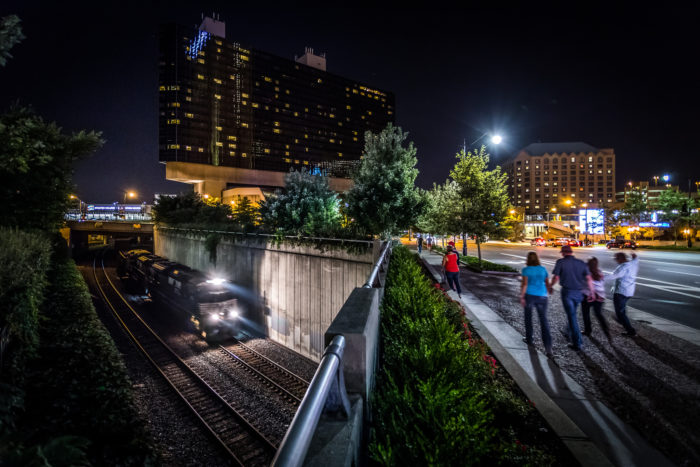 The entries to "Vision from the Past" remind us that creative railroad photography is seen not only through today's lenses, that photographers have been creating good work for decades. Then, as now, steam attracts. Some of these photographers are well-known, some are recognized here for the first time. The judges picked three examples, from three eras: first place, Philip A. Weibler, Chicago & North Western at North Western Terminal, Chicago, 1955; second place, Herbert B. Livesey, Camelback View from Automobile, 1938; and third place, John E. Helbok, fireman cleaning window glass on Nickel Plate Road no. 759, 1970. Each, in its own way, is historically significant. They represent everyday happenings, recorded in a creative manner, showing the importance of recording what you see around you all the time.
Of note, both Livesey's and Helbok's sons, Dennis and Oren, have placed in recent awards programs. The Judges Also Liked category features six additional views.
We cannot help but wonder what other "visions from the past" are out there. This was a rich period for railfan photography and the outstanding images here represent just the tip of the photographic iceberg.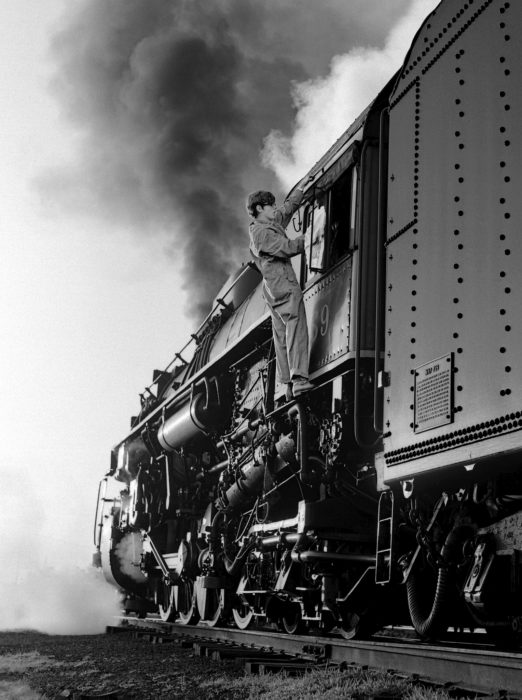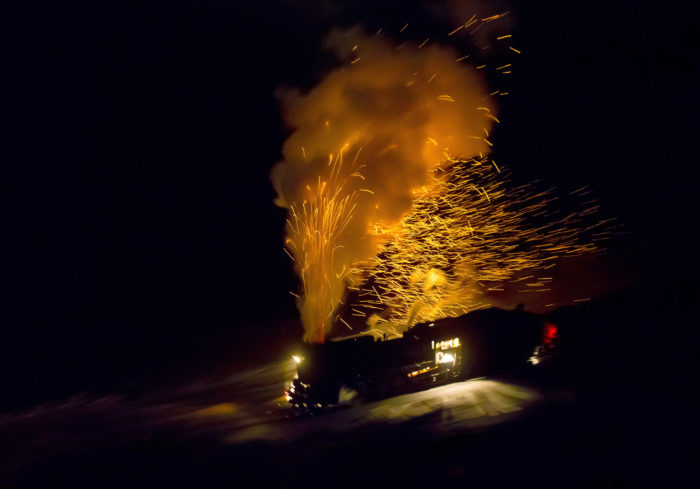 The "By the Light of Night" category brought in a flood of images capturing many aspects of contemporary railroading. While most were captured at night, many were underground or in otherwise dark places where the photographers made the most use of new technology. The judges looked for entrants who took full advantage of the low-light imaging capabilities of modern digital cameras to capture creative views of railroading in the dark that would have been difficult if not impossible in the film era. First prize went to Nicholas D'Amato for his fresh take on a classic spot: a starlit view of Morant's Curve along the Canadian Pacific main line near Lake Louise, Alberta. Brandon Townley took second prize with a complex composition of everyday nightlife in Columbus, Ohio. Darryl Bond's third-prize view portrays the drama of contemporary steam railroading in China as only the highest sensitivities of the latest digital cameras can capture it. The judges faced tough decisions to pick clear winners from so many great photographs, and they selected eight additional views that the Judges Also Liked.
In each category, the first prize winners receive $500, with $250 for second prize and $100 for third. The Center will publish the winners in the Spring 2018 issue of Railroad Heritage, and Railfan & Railroad magazine will publish the winners in their April 2018 issue. We are again partnering with the California State Railroad Museum in Sacramento to present a gallery exhibition of the winners, as well as several selections from both "Judges Also Liked" categories.
More information about the 2017 Awards Program
The 2016 split of the John E. Gruber Creative Photography Awards Program into two distinct entry categories resulted in close to 150 photographers submitting a wide variety of fascinating images. For the 2017 awards program, the judges opted to again split the contest into two categories: "Vision from the Past" and "By the Light of Night."
The first contest, "Vision from the Past," solicits excellent photography captured any time before May 1, 1971. The judges were delighted with Charles McCreary's third-place image from the 2016 "Most Evocative" contest, which depicts a Pennsylvania Railroad passenger train above a bustling street scene in Pittsburgh in 1950. Many photography contests require submissions of work from a recent timeframe. This category of this year's contest requires work that is not recent. The judges hope this will bring forth even more captivating, historic images of railroading and the railroad scene. As with the "Most Evocative" contest last year, the judges will evaluate images for their visual impact, but also with an eye towards the historic value of their content.
The second contest, "By the Light of Night," seeks the best in low-light photography. Our eyes work well in dim environments, so that we can observe activity illuminated by the moon or just a few dim lights. Photographing what we see in low-light conditions has traditionally been a challenge restricted by technology, be it the slow response of photographic film or "noisy," high-ISO images from digital cameras. By necessity, photographs made in dark conditions have traditionally taken the form of long exposures. Improvements in the sensitivities of digital cameras over the past several years have opened up more creative opportunities for twilight, night, and dawn photography than were possible with film and even early digital cameras. With these advancements, today's photographers can now make images in low-light conditions that more closely replicate what the human eye can see.
For the "By the Light of Night" contest, the judges are looking for originality, both in terms of exploring the technical capabilities of high-ISO photography, and the dark details of railroading that often go unnoticed at night. Entries may be of any ISO, and artificial lighting as well as Photoshop processing are permitted. The judges are looking for creative use of the digital capabilities to do new, innovative things. Entries must have been taken after December 31, 2013, between sunset and sunrise, underground, or in an otherwise dark environment.
Past: 1st
Vision from the Past, First Prize: Philip A. Weibler
Philip A. Weibler, West Chicago, Illinois, is a career railroader, having worked for the Norfolk & Western in 1956, the Rock Island from 1960 to 1972; and the Chicago & North Western from 1975 to 1999. He received a Bachelor of Fine Arts degree in industrial design from the University of Illinois. Through the years, he has presented many outstanding photographs.
For this view, Weibler used a 2¼ x 3¼ "Baby Graphic" camera fitted with a 120 roll film back. The judges were drawn to the low camera angle, afternoon back lighting, and the light exhaust pouring out from under the massive steel bridge that carries both Lake Street and "L" tracks. Note the four workers at left waiting with baggage carts and what looks like mail and express, perhaps for an intercity passenger being backed in for loading. The photograph was taken in 1955, the year that CNW would receive its first bi-level gallery commuter coaches.
2nd
Vision from the Past, Second Prize: Herbert B. Livesey
Dennis Livesey submitted this photograph, which he calls, "HBL and the Reading L-1-c 4-6-0 No. 539," taken by his father, Herbert Bailey Livesey Jr. (1902—1982), a native of Chicago. While not a railfan, he was an avid photographer and even spent a summer during World War I working as a kitchen helper aboard dining cars on Chicago & North Western passenger trains. Dennis wrote, "On a spring 1938 business trip somewhere in Pennsylvania, my father Herb encountered a rare Reading locomotive. Thousands of times highways crossed the rails and here, Herb's car had to stop while a lowly local crossed his path. In spite of the delay of his journey by this prosaic machine, Herb found this to be an opportunity to use his camera. The wonderful photographic result speaks perfectly of this commonplace occurrence, an automobile stopped by a steam locomotive, and how something once yawningly common is now deliciously rare."
The judges note that, at a time when panned shots were not popular, Herbert Livesey's photograph shows unusual understanding of creativity and the ability to make maximum use of the tools at hand—in this case, his one-lens camera. In this era, most railroad photographers concentrated on locomotive portraits.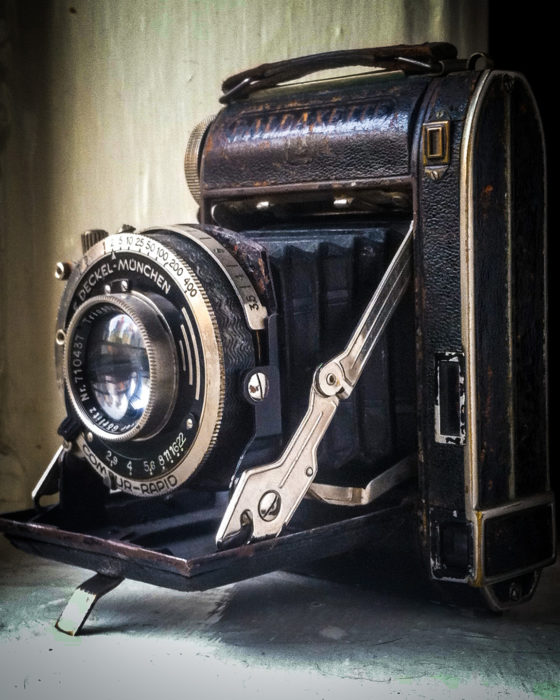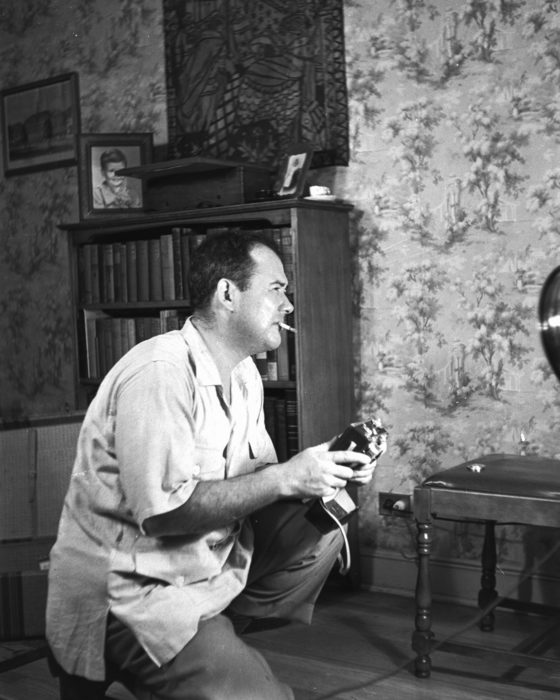 3rd
Vision from the Past, Third Prize: John Helbok
John Helbok, New York City, received third place for his photograph of then-teenaged Steve Wickersham cleaning the window glass on Nickel Plate Road steam locomotive no. 759 at Elizabeth, New Jersey, on July 15, 1970. Wickersham was beginning what would become a life-long dedication to steam and railroad preservation, giving additional significance to Helbok's wonderful photograph. The 2-8-4 locomotive would lead a trip to Jim Thorpe, Pennsylvania, and back that day over the Central Railroad of New Jersey. Helbok used a Mamiya C330 twin lens reflex camera and 120mm Kodak Plus-X 620 film.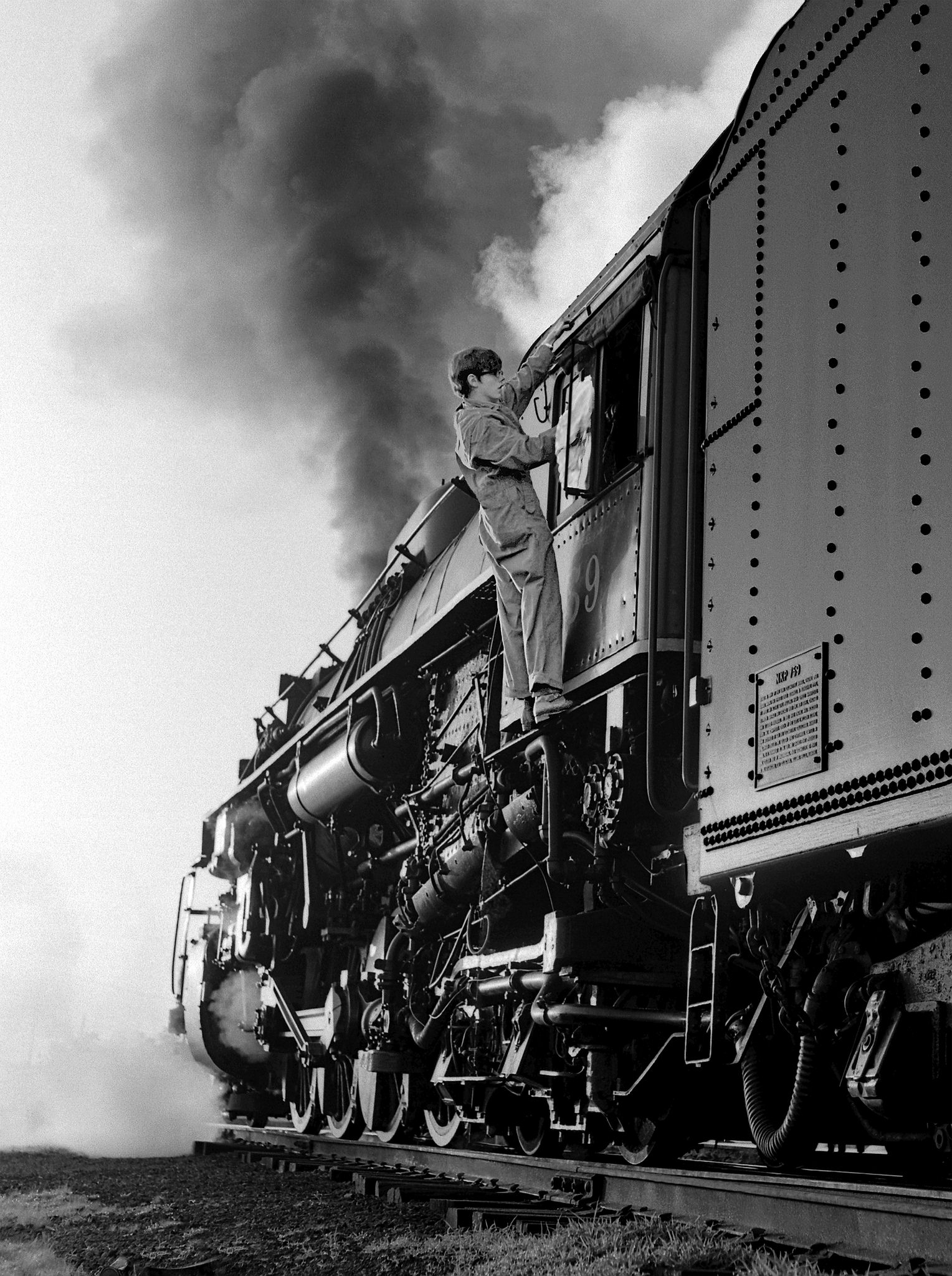 Also Liked
Vision from the Past: Judges Also Liked
Night: 1st
By the Light of Night, First Prize: Nicholas D'Amato
First place goes to Nick D'Amato of Denver, Colorado, for his starlit photograph of an eastbound Canadian Pacific freight passing famous Morant's Curve near Lake Louise, Alberta. CP company photographer Nicholas Morant made this spot famous with his views in the 1950s. Six decades later, D'Amato came up a fresh interpretation of this well-known location. Low-hanging clouds with a clear patch of star filled sky add depth and mood to the cold, snow-filled scene. The smoothness of the passing clouds is a contrast to the sharp mountains, and the red glow of the EOT device adds visual warmth to a chilling winter image.
D'Amato used a Nikon D700 set to ISO 3200. He held the shutter open for 25 seconds with the aperture of his 24-70mm lens at f2.8.
2nd
By the Light of Night, Second Prize: Brandon Townley
Second place goes to Brandon Townley, Sunbury, Ohio, who pictured a Norfolk Southern train passing beneath a street with crowds of hockey fans leaving Nationwide Arena following a hockey game. This visually-complex image captures a slice of life at night with excellent color and clarity, something impossible with traditional films.
Townley used a Canon 6D digital camera and 17-40mm lens with settings of 17mm, ISO 6400, 1/13th of a second, and f4.0.
3rd
By the Light of Night, Third Prize: Darryl Bond
Third place goes to Darryl Bond, who lives in Waimate, New Zealand, for his nighttime view of what could be titled "Chinese Fireworks." A JS-class 2-8-2 steam locomotive is trailed by an explosion of embers as it thunders out of the opencast coal mine at Sandaoling, Xinjiang, China. Light from the firebox also illuminates the scene, with the pan effect and the sparks providing a distinct, impressionistic feel.
Also Liked
By the Light of Night: Judges Also Liked